Concert tour Norway - Sweden - Estonia - Finland
(This is only a suggested itinerary. Tours can be any length and include the concerts and excursions you require).
Day 1 Travel to Scandinavia

Day 2 - 4 Norway

Day 5 - 6 Sweden

Day 7 - 8 Estonia

Day 9 - 10 Finland

Day 11 Finland - home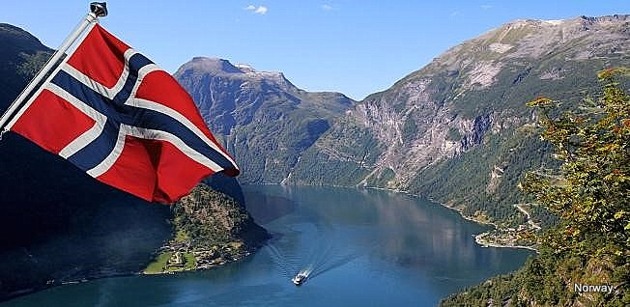 Day 1) FLIGHT/FERRY TO SCANDINAVIA
Departure via scheduled airline/ferry service to Oslo, Norway.

Day 2) OSLO, NORWAY

Welcome to Scandinavia and Oslo Norway.

Check in at the hotel in Oslo downtown. Oslo is a modern European city with an exciting history and interesting cultural life. Surrounded by sea, hills, and forests on all sides, this city offers a number of opportunities.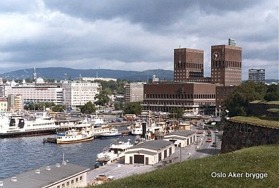 Walking tour to Aker Brygge. From once housing one of Norway's largest shipyards, Aker Brygge now appears as a city within the city, a shopping and entertainment entity on its own. Shops, restaurants, apartments and offices, cinemas, bars & pubs, marina, etc. Exciting architecture and a panorama view of the Oslo fjord. All this makes Aker Brygge Oslo's unique pearl window to the sea.

Remainder of the afternoon free to recover from jet leg or explore the local area.
In the centre of Oslo near Karl Johan Street you will find a wide variety of restaurants, jazz clubs and cafés – among all the shops. There are suitable establishments for persons of all ages in this area. The large concert halls are also well situated in the centre of town within walking distance of Karl Johan Street.

Welcome dinner.

Day 3) OSLO
Breakfast buffét.
City orientation tour of Oslo by coach and half day sightseeing tour:

Kon-Tiki Museum, here you can see the original Kon-Tiki raft (1947) with a 30 foot whale shark underneath...statues and a secret family cave from Easter Island (1956)...the papyrus boat Ra II (1970)...and an exciting collection of archaeological finds from Easter Island, East Polynesia, Galapagos, and Peru.
The Vigeland park, Norway's most visited attraction with over 1 million visitors every year. Approximately 200 sculptures by Gustav Vigeland (1869-1943), who also designed the layout of the park. A monumental artistic creation with a human message that is well worth seeing.
The Viking Ship Museum, houses the great ship burials and finds from Oseberg, Gokstad and Tune, as well as finds from the chieftain grave at Borre, Vestfold county. The three ships, which are the best preserved Viking ships in existence, were found in large burial mounds in the Oslo fjord area. They contained rich burial gifts of wood and textiles. Such materials, dating from the 9th century, are rarely found in such a good state of preservation.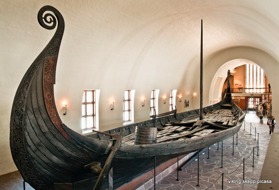 Day 4) OSLO
Breakfast buffét.
Enjoy lunch and then this afternoon we suggest an exciting "Fjord" tour, displaying some of the great beauty of this fine part of the world. This tour gives an interesting view of the harbour and the green hills surrounding the city. Pass the ancient fortress of Akershus and picturesque islands in the inner part of the Oslo Fjord.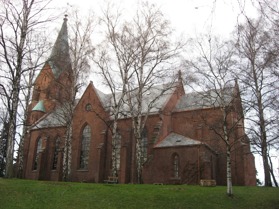 Enjoy lunch and then this afternoon we suggest an exciting "Fjord" tour, displaying some of the great beauty of this fine part of the world. This tour gives an interesting view of the harbour and the green hills surrounding the city. Pass the ancient fortress of Akershus and picturesque islands in the inner part of the Oslo Fjord.
Evening concert at Aker Gamle Kirke (Old Aker Church). Dating to 1100, this medieval stone basilica is Oslo's oldest church – It's still in use as a parish church. Inside, the acoustics' are outstanding.
Day 5) STOCKHOLM, SWEDEN
Breakfast buffét.
In the morning by motor coach to Stockholm. Check in at youth hostel in Stockholm downtown and then city orientation tour of Stockholm by coach.

Discover a city like no other - a city built on 14 islands, where you are never far from the water. Well-preserved medieval buildings stand alongside modern architecture. Stockholm is also home of the Nobel Prize.

Walking tour of Stockholm's historic section Gamla Stan, (Old Town). Go back 750 years in time and feel the medieval atmosphere of the Old Town "Gamla Stan" as you wander through the narrow streets. Stockholm has got history - but also the latest in fashion and IT.

Day 6) STOCKHOLM
Breakfast buffét.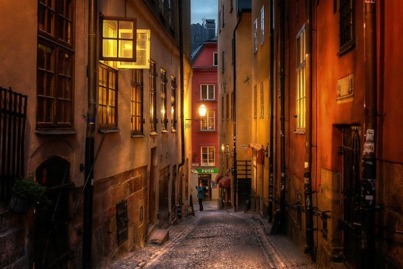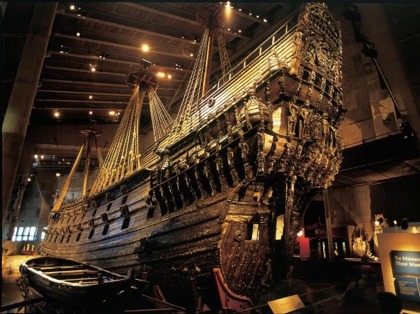 Music museum, founded in 1899 and home of app. 6000 musical instruments. Western art music is especially well represented with the museum's instruments during the period 1600-1850.

After lunch visit Vasa museum, Scandinavia's most popular tourist attraction! The warship Vasa was lost on her first voyage in 1628. The preserved ship is today exhibited in her own museum in Stockholm.
The Museum was inaugurated in 1990. In the large shiphall stands the warship Vasa – the only remaining, intact 17th century ship in the world. The lower rig has been rebuilt, complete with masts, stays and shrouds. Just like the Vasa would have looked like when set for winter in harbour. The wreck, salvaged in 1961, is now once again a complete ship.

Evening concert.

Day 7) CRUISE TO TALLINN, ESTONIA
Breakfast buffét.
Visit the Royal Palace and see the parade of the Royal Guard. The Royal Guard has been stationed at the Royal Palace since 1523.

After lunch departure for overnight cruise to Tallinn, Estonia. Sailing through the unbelievably beautiful Swedish and Finnish archipelago viewing thousands of picturesque islands. The midnight Sun will set for only a couple of hours. You will have plenty of time to enjoy yourself on board the ship.

Optional concert on board ship.

Day 8) TALLINN
The ship will arrive at the center of Tallinn one of the best retained medieval European towns, with its web of winding cobblestone streets, which developed in the 11th to 15th centuries, preserved nearly in its entirety. The Old Town of Tallinn has been inscribed on UNESCO's World Heritage List. City orientation tour of Tallinn by coach.

Concert in Tallinn or the area of Tallinn.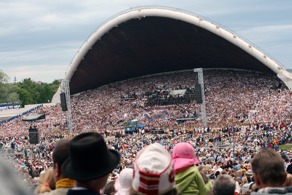 Day 9) CRUISE TO HELSINKI
Breakfast buffét.
Fee morning in Tallinn, with your included "Tallinn Card 6 hours" you have free admission to many of the museums and main sights, free use of public transport, discounts in restaurants and shops.

After late lunch a two hours cruise to Helsinki Finland. The ship will arrive at the center of Helsinki in the evening. Helsinki is now over 450 years old as a town and the city is surrounded by the sea and islands. Helsinki is also a synthesis of nature and culture. Many of its attractions, and its architecture bearing trails of both its western and eastern heritage, are easily revealed to the tourist roaming the city on foot. With its numerous museums, rich musical life and wide variety of exhibitions and events.

Day 10
Breakfast buffét. HELSINKI
Guided city tour by coach takes in the most important and interesting parts of Helsinki: Sibelius Monument - The Opera House - The Presidential Palace - The Parliament building - The Senate Square - Finlandia Hall - Temppeliaukio Church - City Hall.

Concert in Helsinki or the area of Helsinki.

Day 11 HELSINKI – HOME
Breakfast buffét.
Free morning in Helsinki and then transfer to Helsinki International Airport for return flight to home.

WELCOME HOME!