Concert tour Denmark - Sweden - Norway
(This is only a suggested itinerary. Tours can be any length and include the concerts and excursions you require).
Day 1) FLIGHT TO SCANDINAVIA

Departure from home via scheduled airline/ferry service to Copenhagen, Denmark.

Day 2) COPENHAGEN, DENMARK

Welcome to Scandinavia and Copenhagen. Transfer from Kastrup airport to Copenhagen down town and check in at the hotel.

Later on, walking tour of Central Copenhagen to the colourful harbour district of Nyhavn.

Nyhavn "New Port" was established in 1673 as a gateway to the sea from the old inner city. During the growth of Copenhagen the canal moved to it present place and the houses surrounding the Nyhavn canal are more than 300 years old. Today the canal is packed with old wooden ships creating an atmosphere from the past time around 1780-1810 when Nyhavn was the main center of all trade to sea from Copenhagen. Nyhavn with its picturesque old houses and sailing ships on either side of the canal, offers a variety of restaurants, pubs and cafes also called "The longest bar in Scandinavia".

Welcome dinner, the rest of the evening is free.

Day 3) COPENHAGEN, ROSKILDE/KÖGE
Breakfast buffét.

City orientation tour of Copenhagen by motor coach and then "Denmark country tour".

Tour the picturesque towns Roskilde and Köge.
Roskilde, which lies some 18 miles west of Copenhagen, is one of Denmark's oldest towns. The famous Cathedral in the centre of town is the main tourist attraction. Since the 14th century the cathedral has been the burial place of the Danish Royal House. Fifteen kings and twenty queens have found their final resting place in Roskilde. You can also visit the Viking Ship museum, where you can see the old ship and go on a boat trip in a real Viking Ship.

Köge, has a delicately restored town centre, a distinctive atmosphere and a wonderful market square, today appearing as one of Denmark's best preserved markets from the Middle Ages.

Concert in Köge town hall or Roskilde church.

Back to Copenhagen in the evening.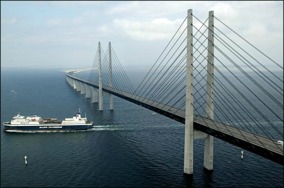 Day 4) COPENHAGEN / STOCKHOLM
Breakfast buffét.
Crossing over Öresund Bridge into Sweden.
The Öresund Bridge is the world's longest cable-stayed bridge serving both highway and railroad traffic, as well as information technology and telecommunications links. It consists of three main parts: an elevated bridge and two approach bridges. Its total length is 5 miles and the free span between the pylons is 1600 ft.
Drive along Sweden's second largest lake Vättern to the city's of Jönkoping, Norrköping and Södertälje on to Stockholm.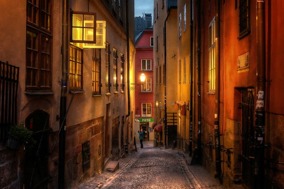 Welcome to Stockholm, the Royal Capital of Sweden. Discover a city like no other - a city built on 14 islands, where you are never far from the water. Well-preserved medieval buildings stand alongside modern architecture. Stockholm is also home of the Nobel Prize. Stockholm is a city of contrasts - water and islands, history and innovation, small town and big city, short winter days and long, light summer nights - with a dazzling array of impressions. Thanks to the city's compact size, you can see and do most things in a short space of time.
City orientation tour of Stockholm and then check in at the hotel in Stockholm downtown. Visit Stockholm's historic section Gamla Stan, (Old Town). Go back 750 years in time and feel the medieval atmosphere of the Old Town as you wander through the narrow streets.
Day 5 STOCKHOLM
Breakfast buffét.
Vasa museum, Scandinavia's most popular tourist attraction! The warship Vasa was lost on her first voyage in 1628. The preserved ship is today exhibited in her own museum in Stockholm.
The Museum was inaugurated in 1990. In the large shiphall stands the warship Vasa - the only remaining, intact 17th century ship in the world. The lower rig has been rebuilt, complete with masts, stays and shrouds. Just like the Vasa would have looked like when set for winter in harbour. The wreck, salvaged in 1961, is now once again a complete ship.
After lunch, visit the Royal Palace and see the parade of the Royal Guard. The Royal Guard has been stationed at the Royal Palace since 1523 and is a popular tourist attraction.
Concert at Skansen. Skansen is the first open-air museum in the world. Skansen is also a zoological park specialising mainly in Scandinavian fauna. Artur Hazelius (1833-1901) founded Skansen in 1891 for the purpose of showing how people had lived and worked in different parts of Sweden in times gone by.

Day 6) STOCKHOLM / UPPSALA

Early breakfast and then to Uppsala, "the city of inspiration and knowledge", the university in Uppsala is a world-class institution that was founded before Columbus set sail for the "New World."

Tour Uppsala Cathedral. Construction began around 1260, with consecration taking place in 1435 after 175 years of work. Now the largest Cathedral in Scandinavia, with several unique architectural details here and a large number of exquisite artistic objects from eight centuries. Pilgrims have made their journey to the reliquary of Erik the Holy ever since the cathedral was new. Here lie the graves of many famous Swedes: King Gustav I (Vasa), Carolus Linnaeus and others.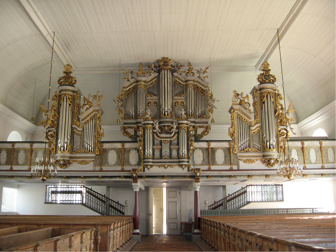 From Uppsala to Öregrund and Lövstabruk.
Öregrund is a region of islands and idylls. Picturesque wooden houses with lovely gardens blend with boutiques, restaurants and cafés. Art, music and other events fill the calendar during cheery summer months.

Lövstabruk, the largest "forging village" in the region. It was founded by Louis De Geer during the 1620-ties. The buildings you see today are from the 18th century. Manor, park inn, store houses. The church with the world famous baroque organ built by Johan Niclas Cahman 1728.

Concert in Öregrund or Lövstabruk Church.

Overnight in Uppsala.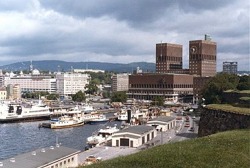 Day 7) OSLO
Breakfast buffét.
Travel west by motor coach and reach Oslo in the evening. Stop for lunch.

Check in at the hotel in Oslo downtown.

Discover Oslo, a modern European city with an exciting history and interesting cultural life.

Surrounded by sea, hills, and forests on all sides, this city offers a number of opportunities. In the centre of Oslo near Karl Johan Street you will find a wide variety of restaurants, jazz clubs and cafés – among all the shops. There are suitable establishments for persons of all ages in this area. The large concert halls are also well situated in the centre of town within walking distance of Karl Johan Street.

Walking tour to Aker Brygge. From once housing one of Norway's largest shipyards, Aker Brygge now appears as a city within the city, a shopping and entertainment entity on its own. Shops, restaurants, apartments and offices, cinemas, bars & pubs, marina, etc. Exciting architecture and a panorama view of the Oslo fjord. All this makes Aker Brygge Oslo's unique pearl window to the sea.
Day 8) OSLO
Breakfast buffét.
City orientation tour of Oslo by coach and half day sightseeing tour:

The Vigeland park, Norway's most visited attraction with over 1 million visitors every year. Approximately 200 sculptures by Gustav Vigeland (1869-1943), who also designed the layout of the park. A monumental artistic creation with a human message that is well worth seeing.

Kon-Tiki Museum, here you can see the original Kon-Tiki raft (1947) with a 30 foot whale shark underneath...statues and a secret family cave from Easter Island (1956)...the papyrus boat Ra II (1970)...and an exciting collection of archaeological finds from Easter Island, East Polynesia, Galapagos, and Peru.

The Viking Ship Museum, houses the great ship burials and finds from Oseberg, Gokstad and Tune, as well as finds from the chieftain grave at Borre, Vestfold county. The three ships, which are the best preserved Viking ships in existence, were found in large burial mounds in the Oslo fjord area. They contained rich burial gifts of wood and textiles.

Such materials, dating from the 9th century, are rarely found in such a good state of preservation.

Optional fjordtour after the sightseeing. Recommended for those wishing to see more of the beautiful fjord. Pass through narrow sounds, idyllic bays and through a maze of islands with small summer houses.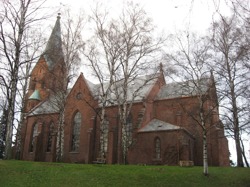 Optional fjordtour after the sightseeing. Recommended for those wishing to see more of the beautiful fjord. Pass through narrow sounds, idyllic bays and through a maze of islands with small summer houses.

Evening concert at Aker Gamle Kirke (Old Aker Church).
Dating to 1100, this medieval stone basilica is Oslo's oldest church – It's still in use as a parish church. Inside, the acoustics' are outstanding.

Farewell Dinner after the concert.

Day 9) OSLO – TO HOME

Breakfast buffet and then transfer to Oslo International Airport for return flight to home.