Baltic opera tour
The Baltic States are three countries of Europe, with a long history and diverse culture between regions. The three countries were independent, then occupied by the Soviet Union, but they were among the first to break away in 1987—91, the Singing Revolution, and today are proud members of both the European Union and NATO. The Singing Revolution is a commonly used name for events between 1987 and 1991 that led to the restoration of the independence of Estonia, Latvia and Lithuania.



ESTONIA, Tallinn

LATVIA, Riga

LITHUANIA, Vilnius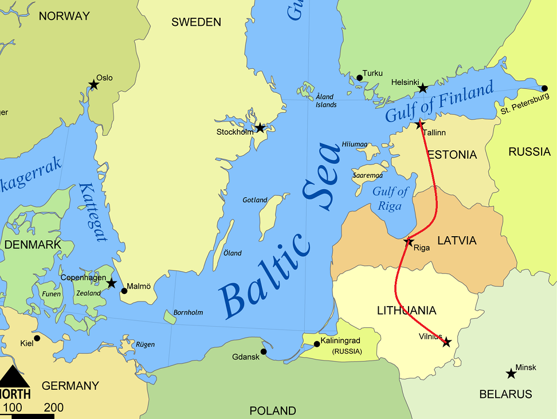 Welcome to Estonia and Tallinn, one of the best retained medieval European towns, with its web of winding cobblestone streets, which developed in the 11th to 15th centuries, preserved nearly in its entirety. The Old Town of Tallinn has been inscribed on UNESCO's World Heritage List.

City orientation tour of Tallinn by coach.
The tour covers Tallinn's top sights. It starts with a walking tour of the city's best-loved attraction, its medieval Old Town, where you'll hear tales of merchants and monks from long ago as you make your way through the enchanting cobblestone streets. The tour continues by bus to the leafy Kadriorg district, a park area that's home to amazing wooden villas, art museums, and a baroque palace built for Russian Tsar Peter the Great. It continues onward to the Pirita beach area, where you'll get a glimpse of the mysterious ruins of a 15th century convent and the city's Soviet-era TV tower.

Mid-late afternoon at leisure. In the early evening the party again transfers for the evening performance.